Auntie Anne's Rolls in National Pretzel Day with FREE Pretzels
"My Pretzel Perks" members can redeem one free Original or Cinnamon Sugar Pretzel from April 26-30
April 5, 2017
Lancaster, Pennsylvania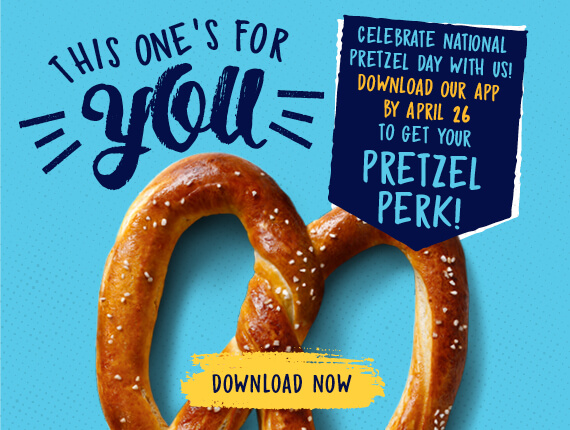 Who says there's no such thing as a free lunch? Today,Auntie Anne's®, the world's largest hand-rolled soft pretzel franchise, announced they will be honoring National Pretzel Day with some serious pretzel generosity. Guests who use the "My Pretzel Perks" app will have a choice of one free Original or Cinnamon Sugar Pretzel, redeemable from National Pretzel Day – Wednesday, April 26 – through Sunday, April 30, 2017.
"National Pretzel Day is our favorite day of the year at Auntie Anne's," said Heather Neary, president of Auntie Anne's. "Our stomachs would be in serious knots if not everyone got to celebrate this special holiday with us, so we're giving our loyal fans five days to redeem their free pretzel offer!"
In order to receive the free pretzel, guests must download the "My Pretzels Perks" app – available for free in Apple's App Store and Android's Google Play Store – before 11:59 p.m. EST on April 26. In addition to the National Pretzel Day reward, "My Pretzel Perks" members earn 10 points for every $1 spent at any Auntie Anne's location that can be redeemed for more free pretzels and signature Auntie Anne's items. Members also receive free pretzels on their birthday and information about fresh, new products from the company.
Auntie Anne's hand-rolled soft pretzels come freshly-baked in a variety of flavors including Original, Cinnamon Sugar, Sweet Almond, Sour Cream & Onion, Roasted Garlic & Parmesan, and Pepperoni. For guests on-the-go, Auntie Anne's offers portable Pretzel Nuggets, Pretzel Dogs, and Mini Pretzel Dogs. With eight dipping sauces and a variety of drinks to accompany each pretzel, Auntie Anne's is bound to hit the spot any time, any day.
National Pretzel Day will be honored at participating Auntie Anne's nationwide.
About Auntie Anne's®:
With more than 1,700 locations in 48 states and more than 25 countries, Auntie Anne's mixes, twists and bakes pretzels to golden brown perfection all day long in full view of guests. Auntie Anne's can be found in malls and outlet centers, as well as in non-traditional spaces including universities, airports, Walmarts, travel plazas, military bases, and food trucks. For more information, visit AuntieAnnes.com, or follow on Facebook, Twitter and Instagram.