Stay Connected
©2023 Auntie Anne's Franchisor SPV LLC
Auntie Anne's® Pretzel Nation Creation Votes are in, and Birthday Cake Takes the Cake – Literally
The new Birthday Cake Pretzel will be available in stores for a limited time only this fall
June 26, 2018
Lancaster, Pennsylvania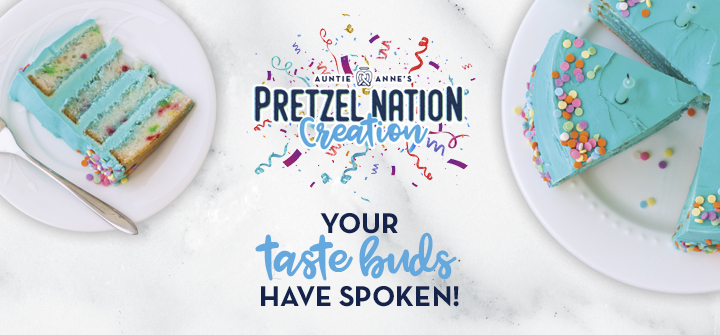 The votes have been tallied and it's clear that pretzel lovers want to celebrate! Birthday Cake has been declared the Auntie Anne's® Pretzel Nation Creation champion, narrowly defeating Caramel Apple Crème Brûlée. The fan favorite flavor will be available in stores for a limited time only this fall.
"The second annual Pretzel Nation Creation competition has been the icing on the cake for our 30th birthday celebration," said Meredith Wenz, Auntie Anne's director of marketing. "It's fitting that our fans marked the occasion by choosing the Birthday Cake Pretzel. It's going to be a pretzel unlike any other, and I invite all of you to stop by your local Auntie Anne's to try it this fall."
An initial request for birthday-inspired flavors on social media last month generated more 650 suggestions. Online voting took place at PretzelNationCreation.com from June 19 – 25. The apple didn't fall far from the Birthday Cake-winning tree in this competition, with Caramel Apple Crème Brûlée finishing a close second, just 662 votes behind. Bringing up the rear was Lemonade Cake with only 7,211 votes. The final tally:
Birthday Cake: 79,641 votes
Caramel Apple Crème Brûlée: 78,979 votes
Red Velvet Cheesecake: 38,154 votes
Cookies & Cream: 31,245 votes
Tiramisu: 16,542 votes
Chocolate Coconut: 16,191 votes
Pineapple Upside Down Cake: 15,121 votes
Chocolate Covered Cherry: 9,314 votes
Cotton Candy: 8,748 votes
Lemonade Cake: 7,211 votes
Last year's inaugural Pretzel Nation Creation crowned Sriracha as the winner, and now the new Birthday Cake Pretzel will join other delicious Auntie Anne's offerings, including Original, Cinnamon Sugar, Pepperoni and more. For updated details about when the new pretzel will be available, visit AuntieAnnes.com or follow on Facebook, Twitter and Instagram.
About Auntie Anne's®:
With more than 1,800 locations in 48 states and more than 25 countries, Auntie Anne's mixes, twists and bakes pretzels to golden brown perfection all day long in full view of guests. Auntie Anne's can be found in malls and outlet centers, as well as in non-traditional spaces including universities, airports, Walmarts, travel plazas, military bases, and food trucks. For more information, visit AuntieAnnes.com, or follow on Facebook,Twitter and Instagram.