Auntie Anne's® Celebrates Fall with the Return of Pumpkin Spice Pretzel Nuggets
The seasonal fan favorite is back for a limited time
September 4, 2018
Lancaster, Pennsylvania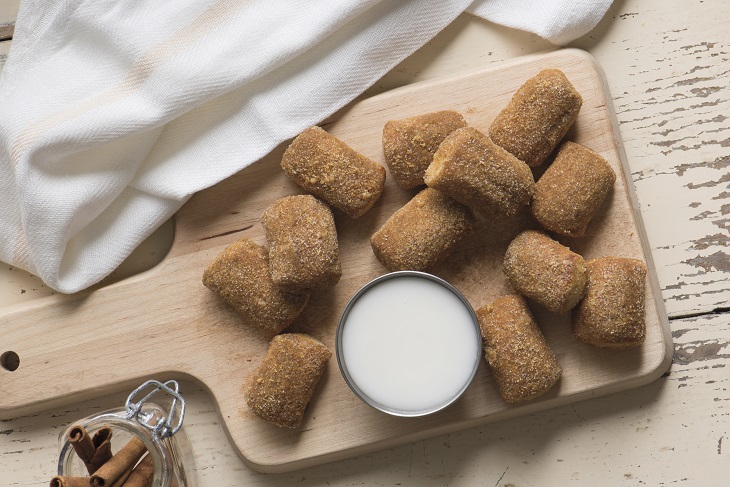 To kick off the fall and the return of all things pumpkin spice, Auntie Anne's®, the world's largest hand-rolled soft pretzel franchise, is bringing back its beloved Pumpkin Spice Pretzel Nuggets. Now available for a limited time, the nuggets are freshly baked and topped with a special blend of seasonal spices.
"Nothing says 'fall' like Pumpkin Spice Pretzel Nuggets," said Marcel Nahm, Auntie Anne's vice president of marketing. "At Auntie Anne's, we love bringing innovative flavors to pretzel lovers nationwide and are excited to usher in pumpkin spice season with the return of this fan favorite."
To take this treat to the next level, pair Pumpkin Spice Pretzel Nuggets with Auntie Anne's Light Cream Cheese or Sweet Glaze dips. A Pumpkin Spice Pretzel Nuggets purchase will allow guests to earn points towards the redemption of free pretzels and signature Auntie Anne's items through the My Pretzel Perks app, available for free download in Apple's App Store® and Android's Google Play® Store. Members also receive free pretzels on their birthday, exclusive offers, and information about fresh, new products.
Pumpkin Spice Pretzel Nuggets will be available in stores nationwide, while supplies last. To find an Auntie Anne's location near you, please visit auntieannes.com/locations.
About Auntie Anne's®:
With more than 1,800 locations in 48 states and more than 25 countries, Auntie Anne's mixes, twists and bakes pretzels to golden brown perfection all day long in full view of guests. Auntie Anne's can be found in malls and outlet centers, as well as in non-traditional spaces including universities, airports, Walmarts, travel plazas, military bases, and food trucks. For more information, visit AuntieAnnes.com, or follow on Facebook,Twitter and Instagram.