Stay Connected
©2023 Auntie Anne's Franchisor SPV LLC
Give Love this Valentine's Day with Auntie Anne's Buy One, Get One Heart-Shaped Pretzels
Heart-Shaped Original and Cinnamon Sugar Pretzels are Available at Auntie Anne's Nationwide on February 14 Only
January 31, 2019
Lancaster, Pennsylvania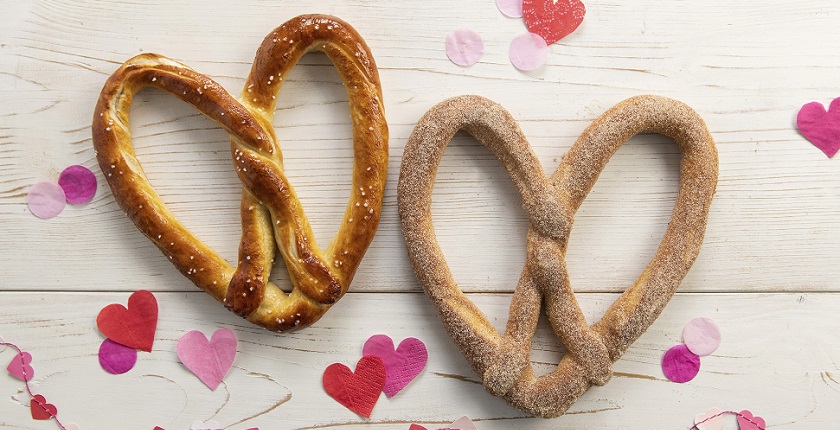 Pretzel lovers rejoice, because Auntie Anne's®, the world's largest hand-rolled soft pretzel franchise, is continuing its love affair with Heart-Shaped Pretzels. On February 14, pretzel fans can share the love with a special twist on Original and Cinnamon Sugar Pretzels, available at Auntie Anne's locations across the country for that one special day only.
"At Auntie Anne's, we couldn't be happier to once again share the love with salty or sweet Valentine's Day pretzel treats," said Meredith Wenz, Auntie Anne's Director of Marketing. "We hope our Heart-Shaped Pretzels bring a smile to loved ones nationwide on February 14."
Better yet, Auntie Anne's is offering a Heart-Shaped Pretzel Buy One, Get One (BOGO) promotion redeemable only on February 14. From February 11 – 14, fans can visit AuntieAnnes.com/Heart-Shaped-Pretzels to get the offer. It will also be emailed to all Pretzel Perks loyalty members on February 14.
To find an Auntie Anne's location near you, please visit AuntieAnnes.com/locations.
About Auntie Anne's®:
With more than 1,800 locations in 48 states and more than 25 countries, Auntie Anne's mixes, twists and bakes pretzels to golden brown perfection all day long in full view of guests. Auntie Anne's can be found in malls and outlet centers, as well as in non-traditional spaces including universities, airports, Walmarts, travel plazas, military bases, and food trucks. For more information, visit AuntieAnnes.com, or follow on Facebook,Twitter and Instagram.