Auntie Anne's Wants to Celebrate 30 Years of Pretzel Love with Free Pretzels
If One Million Fans "RSVP" to Auntie Anne's 30th Birthday Party, free Original and Cinnamon Sugar Pretzels will be available from 10 a.m. – 2 p.m. on March 3
February 21, 2018
Lancaster, Pennsylvania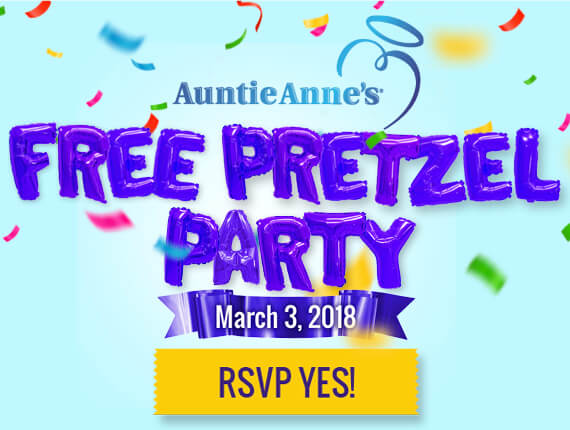 Auntie Anne's®, the world's largest hand-rolled soft pretzel franchise, turns 30 this year and is calling on the pretzel-loving public to help ring in this delicious milestone. From now through March 2, fans can rejoice in three decades of pretzel love by RSVP'ing 'yes' to Auntie Anne's 30th birthday bash at HBDAuntieAnnes.com. One million RSVPs will unlock a Free Pretzel Party on March 3.
"Thirty years is a big milestone and there is no one we would rather celebrate it with than the pretzel lovers around the world," said Heather Neary, President of Auntie Anne's. "We've celebrated a lot of good times together over the last 30 years and we are very excited to embark upon our next 30 years and beyond."
To RSVP to the saltiest, sweetest and most twisted party of the year, pretzel devotees are encouraged to visit HBDAuntieAnnes.com. A live tracker will tally RSVPs until the one million goal is met. If unlocked, the Free Pretzel Party will take place at Auntie Anne's locations nationwide on March 3 from 10 a.m. to 2 p.m. All guests will receive one free Original or Cinnamon Sugar pretzel, no strings attached.
In an effort to keep the party going, Auntie Anne's will also give Free Pretzel Party participants a Buy One Get One (BOGO) coupon that is valid through March 31, while supplies last.
About Auntie Anne's®:
With more than 1,700 locations in 48 states and more than 25 countries, Auntie Anne's mixes, twists and bakes pretzels to golden brown perfection all day long in full view of guests. Auntie Anne's can be found in malls and outlet centers, as well as in non-traditional spaces including universities, airports, Walmarts, travel plazas, military bases, and food trucks. For more information, visit AuntieAnnes.com, or follow on Facebook, Twitter and Instagram.