Auntie Anne's Commences 5th Annual Fundraising Campaign to Benefit Alex's Lemonade Stand Foundation
Donations to Fund Childhood Cancer Research
July 19, 2016
Lancaster, Pennsylvania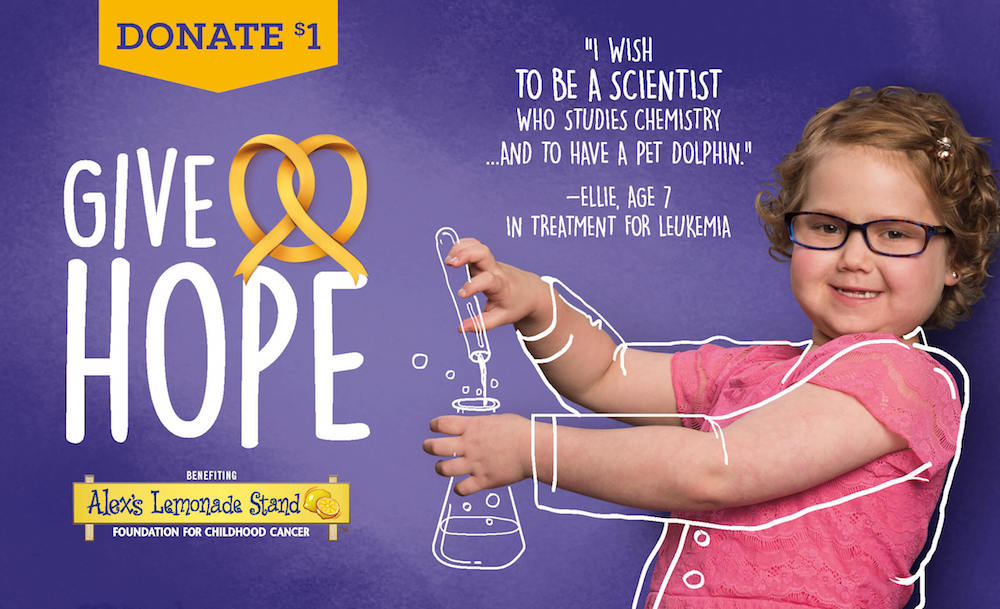 Auntie Anne's®, the world's largest hand-rolled soft pretzel franchise, today announced the start of its fifth annual in-store fundraising campaign to support Alex's Lemonade Stand Foundation (ALSF). Between now and September 11, 2016, the famed pretzel twisters hope to raise more than $500,000 to help fund childhood cancer research.
Guests who visit Auntie Anne's during the fundraising window can show their support in the fight to end childhood cancer by purchasing paper pretzel ribbon icons for $1. One hundred percent of the proceeds from the ribbons will be donated to ALSF. As a token of appreciation to guests who help "give hope" via the ribbon campaign, Auntie Anne's will provide a $1 off coupon for their next purchase of any pretzel product or drink.
"From the start, Auntie Anne's has been rooted in a culture of caring for others. Auntie Anne and Jonas Beiler founded the company in 1988 to raise funds for a family counseling center that they later opened, and this tradition of giving back continues today with our amazing Alex's Lemonade Stand Foundation partnership," said Heather Neary, president of Auntie Anne's. "We are proud and honored to partner with ALSF and support the mission of the foundation's founder, Alex Scott – a cure for childhood cancer."
Both based in Southeastern Pennsylvania and known for their lemonade, Auntie Anne's and ALSF began their partnership in 2011. Since then, Auntie Anne's has helped ALSF raise more than $2.4 million through in-store fundraising campaigns, coin canisters, local events, and the annual Auntie Anne's C.A.R.E.S. Charity Golf Tournament. These donations have funded more than 48,000 hours of cancer research.
About Auntie Anne's®:
At its more than 1,600 locations around the world, Auntie Anne's mixes, twists and bakes pretzels from scratch all day long in full view of guests. Auntie Anne's can be found in malls, outlet centers, and Walmarts, as well as in non-traditional spaces including universities, airports, travel plazas, amusement parks, and military bases. In addition, it has extended the brand onto retailers' shelves and also serves as a distributor for fundraising products. Available at select retailers nationwide, pretzel fans can enjoy Auntie Anne's prepare-at-home products, from frozen Classic and Cinnamon Sugar Soft Pretzels and Pretzel Nuggets, to frozen Pretzel Dogs and Pretzel Pocket Sandwiches, to a versatile Pretzel Baking Kit. For more information, visit AuntieAnnes.com, or follow on Facebook, Twitter and Instagram.