Auntie Anne's Gives the Gift of Hope Through 6th Annual Fundraising Campaign Benefiting Alex's Lemonade Stand Foundation
By purchasing pretzel ribbons, guests can help fund childhood cancer research
July 17, 2017
Lancaster, Pennsylvania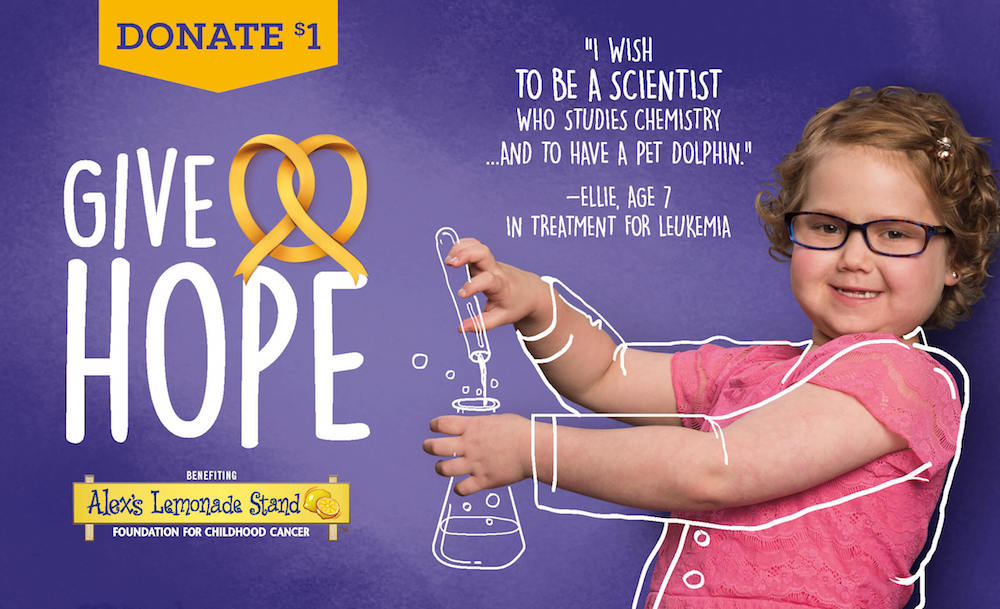 Auntie Anne's®, the world's largest hand-rolled soft pretzel franchise, is partnering for the sixth year with Alex's Lemonade Stand Foundation (ALSF) to help fund childhood cancer research. From today through Sunday, September 10, 2017, fans of Auntie Anne's can give the gift of hope by purchasing a pretzel ribbon for $1 to show their support in the fight to end childhood cancer. One hundred percent of proceeds from the pretzel ribbons will be donated to ALSF.
Since the onset of the brand's relationship with Alex's Lemonade Stand Foundation in 2011, the unique pretzel ribbons have made a difference: together, Auntie Anne's and ALSF have raised more than $3.1 million to help fund life-saving research, resulting in more than 62,000 cancer research hours. Guests who purchase a pretzel ribbon will receive a coupon for $1 off their next Auntie Anne's purchase as a thank you. In an effort to amplify contributions, Auntie Anne's will donate an additional $1 every time a fan shares a picture of their pretzel ribbon on social media using #auntieannes4ALSF.
"For the past six years, Auntie Anne's has been honored to partner with Alex's Lemonade Stand Foundation and support their mission to raise funds for research into new treatments and cures for all children battling cancer," said Heather Neary, president of Auntie Anne's. "From the very beginning, our founder, 'Auntie' Anne Beiler, said caring for others was the purpose of Auntie Anne's. That statement still rings true today. We're proud to continue our support of Alex's Lemonade Stand Foundation and the dream of its founder, Alex Scott, to end childhood cancer."
Auntie Anne's and ALSF share a similar history. Both started as single stands in southeastern Pennsylvania, and against impossibly long odds, grew to become international ventures with millions of dedicated supporters. Working together, they hope to raise more than $550,000 this summer to fight childhood cancer.
To find an Auntie Anne's location near you and purchase a pretzel ribbon for Alex's Lemonade Stand Foundation, please visit www.auntieannes.com/locations.
About Auntie Anne's®:
With more than 1,700 locations in 48 states and more than 25 countries, Auntie Anne's mixes, twists and bakes pretzels to golden brown perfection all day long in full view of guests. Auntie Anne's can be found in malls and outlet centers, as well as in non-traditional spaces including universities, airports, Walmarts, travel plazas, military bases, and food trucks. For more information, visit AuntieAnnes.com, or follow on Facebook, Twitter and Instagram.