Auntie Anne's® Continues 30th Birthday Celebration with Launch of Birthday Cake Pretzel Nuggets
The flavor, selected by fans, is now available for a limited time
October 22, 2018
Lancaster, Pennsylvania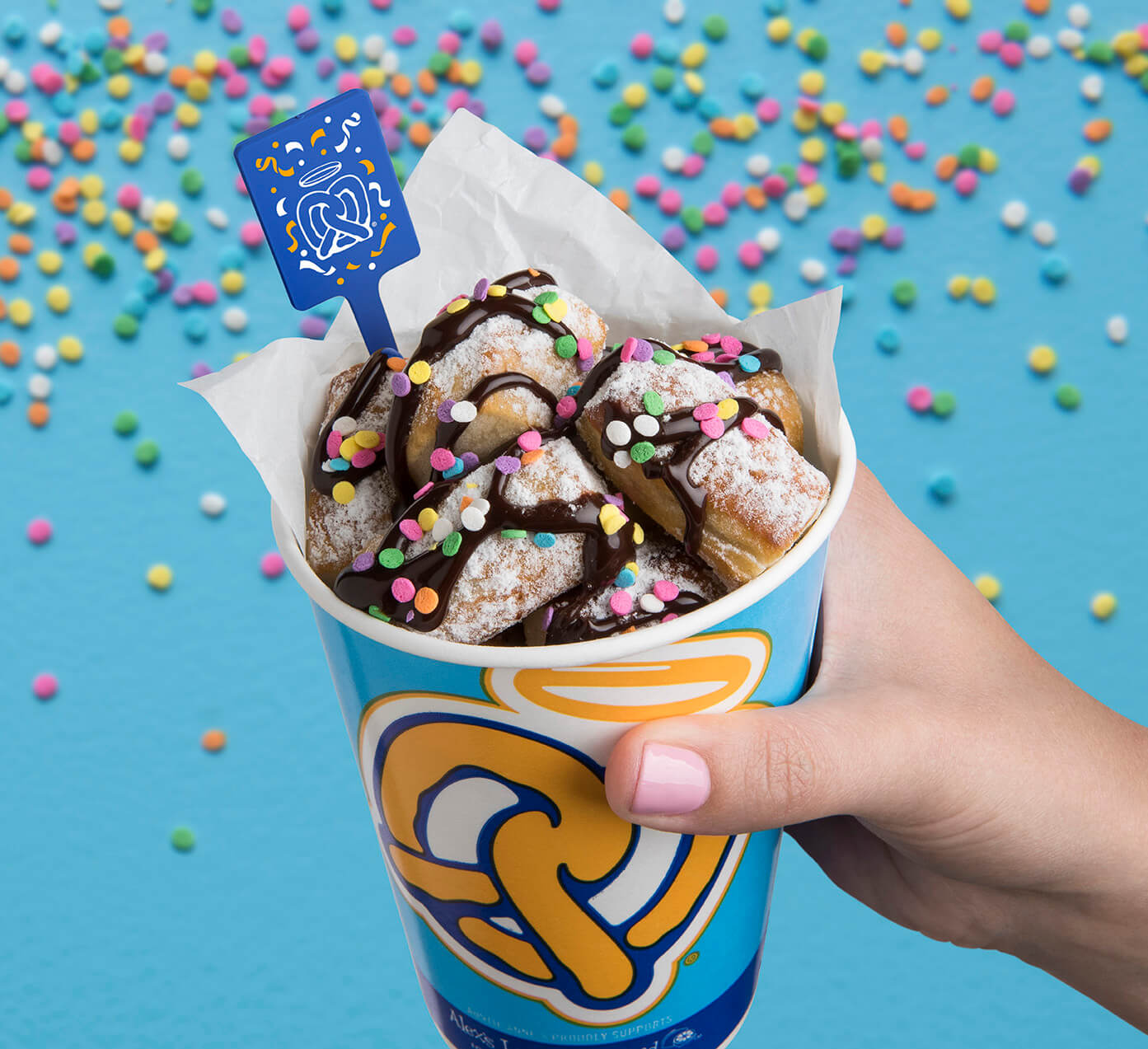 Auntie Anne's® is keeping its 30th birthday celebration going with a gift for its fans – Birthday Cake Pretzel Nuggets. Starting today, the festive new flavor will be available for a limited time, meaning fans can have their Birthday Cake Pretzel Nuggets…and eat them too.
Earlier this year, Auntie Anne's Pretzel Nation Creation empowered pretzel lovers to select a new birthday-inspired flavor in honor of the brand's 30th birthday. An initial request for flavors on social media generated more than 650 suggestions. Fans voted for the ten finalists at PretzelNationCreation.com from June 19 – 25. More than 300,000 votes were tallied and Birthday Cake was fittingly declared the Pretzel Nation Creation champion, defeating Caramel Apple Crème Brûlée by just 662 votes.
"We've been celebrating our birthday milestone with ours fans all year," said Marcel Nahm, Auntie Anne's Vice President of Marketing. "We hosted a Free Pretzel Party at all of our stores nationwide after more than 1 million guests RSVP'd, launched the stylish "For the Love of Pretzels" clothing and accessories collection, and then called on our fans to choose a new birthday-inspired pretzel flavor. Birthday Cake Pretzel Nuggets are the perfect culmination to this celebration, our tasty gift to pretzel lovers everywhere."
The bite-size Birthday Cake Pretzel Nuggets are dusted with vanilla, drizzled with chocolate syrup and topped with fun confetti sprinkles. Whether for a birthday celebration or just a special treat, these nuggets are a snack that anyone with a sweet tooth can enjoy.
Auntie Anne's Birthday Cake Pretzel Nuggets will be available nationwide in stores for a limited time only. For more information, visit AuntieAnnes.com, or follow on Facebook, Twitter and Instagram.
About Auntie Anne's®:
With more than 1,800 locations in 48 states and more than 25 countries, Auntie Anne's mixes, twists and bakes pretzels to golden brown perfection all day long in full view of guests. Auntie Anne's can be found in malls and outlet centers, as well as in non-traditional spaces including universities, airports, Walmarts, travel plazas, military bases, and food trucks. For more information, visit AuntieAnnes.com, or follow on Facebook,Twitter and Instagram.