Share the Love! Auntie Anne's Offers Buy One, Get One Heart-Shaped Pretzels this Valentine's Day
Heart-Shaped Original and Cinnamon Sugar Pretzels are Available at Auntie Anne's Stores Nationwide on February 14 Only
February 1, 2018
Lancaster, Pennsylvania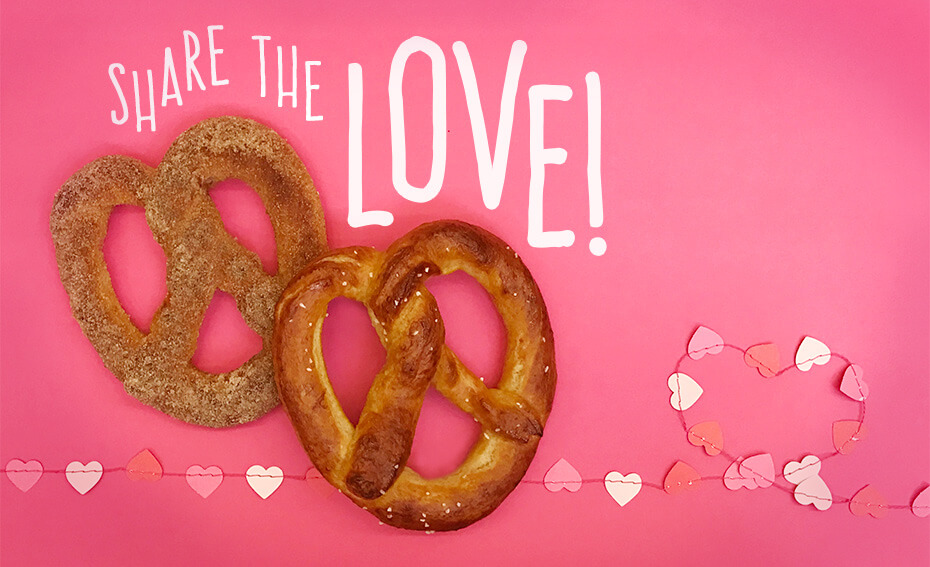 This Valentine's Day, sweet, salty and buttery love is in the air as Auntie Anne's®, the world's largest hand-rolled soft pretzel franchise,is bringing back their beloved Heart-Shaped Pretzels. On February 14, pretzel fans can share the love with a special twist on Original and Cinnamon Sugar Pretzels, available at Auntie Anne's stores nationwide for that one special day only.
"At Auntie Anne's, we are thrilled to offer a fun, delicious twist to the traditional red rose with Heart-Shaped Pretzels," said Carol Pasquariello, Vice President of Marketing at Auntie Anne's. "We find joy in knowing your loved ones can delight in a salty or sweet Valentine's Day pretzel treat."
To help further spread the love, Auntie Anne's is offering a Heart-Shaped Pretzel Buy One, Get One (BOGO) promotion on February 14 for all My Pretzel Perks members. To receive the offer, guests need to download the app, which is available for free in Apple's App Store and Android's Google Play Store, before 12:00 p.m. EST on February 13.
For pretzel lovers looking to take things to the next level, Auntie Anne's recommends pairing the Heart-Shaped Pretzels with one of their delicious dips:
Original Heart-Shaped Pretzel with Hot Salsa Cheese Dip for flames that keep sizzling
Original Heart-Shaped Pretzel with Marinara Dip for the hopeless romantic who wants red on Valentine's Day
Cinnamon Sugar Heart-Shaped Pretzel with Sweet Glaze Dip for a sweet treat for your sweetheart
About Auntie Anne's®:
With more than 1,700 locations in 48 states and more than 25 countries, Auntie Anne's mixes, twists and bakes pretzels to golden brown perfection all day long in full view of guests. Auntie Anne's can be found in malls and outlet centers, as well as in non-traditional spaces including universities, airports, Walmarts, travel plazas, military bases, and food trucks. For more information, visit AuntieAnnes.com, or follow on Facebook, Twitter and Instagram.