Auntie Anne's Honored with ICSC Foundation Retailer Community Support Award
May 24, 2018
Lancaster, Pennsylvania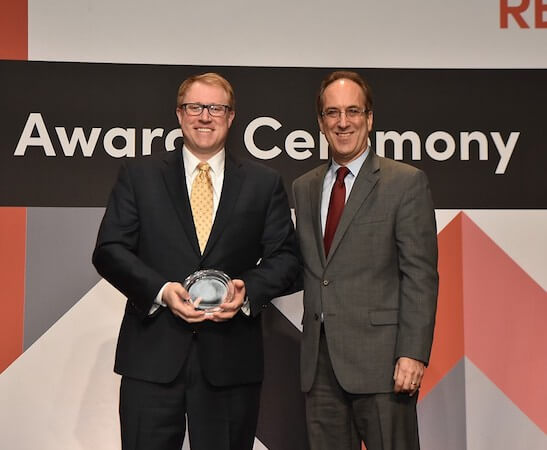 Auntie Anne's®, the world's largest hand-rolled soft pretzel franchise, received the ICSC Foundation Retailer Community Support Award on May 20th during RECon, the premier international retail real estate conference ICSC holds annually in Las Vegas. The award recognizes Auntie Anne's partnership with Alex's Lemonade Stand Foundation (ALSF), the brand's national charitable partner.
"We're honored to receive the ICSC Foundation Retailer Community Support Award," said Okey Reese, Vice President, Sales & Real Estate Retail Markets, Auntie Anne's. "The company was literally built on the foundation of caring for others. Anne Beiler – "Auntie" Anne herself – started her farmers market stand in 1988 to enable her husband to offer free counseling services for their community. That commitment to giving back continues to drive our brand today, and this award is a testament to the entire Auntie Anne's system's dedicated support of ALSF."
ALSF's mission is to change the lives of children with cancer through funding impactful research, raising awareness, supporting families, and empowering everyone to help cure childhood cancer. Since establishing a partnership with ALSF in September 2011, Auntie Anne's has raised more than $3.7 million to fund childhood cancer research through in-store fundraising campaigns, coin canister donations, local event collaboration, and the company's annual C.A.R.E.S. Golf Tournament. Auntie Anne's seventh annual fundraising campaign takes place this summer from June 11 through August 12. Guests can visit Auntie Anne's locations nationwide to purchase a pretzel ribbon paper icon for $1 to show their support in the fight to end childhood cancer. One hundred percent of proceeds from the pretzel ribbons will be donated to ALSF.
The ICSC Foundation, the charitable arm of ICSC, hosts the Community Support Awards program, which recognizes that shopping centers play an integral role to the public, civic and economic vibrancy to the communities they serve. The Awards highlight and encourage the communal aspect of the industry, showcasing the country's premier examples of corporate social responsibility and community outreach conducted by shopping centers, their management companies and developers. As part of the award, the ICSC Foundation will present a $10,000 grant to ALSF.
About Auntie Anne's®:
With more than 1,700 locations in 48 states and more than 25 countries, Auntie Anne's mixes, twists and bakes pretzels to golden brown perfection all day long in full view of guests. Auntie Anne's can be found in malls and outlet centers, as well as in non-traditional spaces including universities, airports, Walmarts, travel plazas, military bases, and food trucks. For more information, visit AuntieAnnes.com, or follow on Facebook,Twitter and Instagram.