Auntie Anne's Empowers Fans to Choose Next Pretzel Flavor
July 21st through July 30th, Fans can Vote for the Next Pretzel Nation Creation
July 20, 2017
Lancaster, Pennsylvania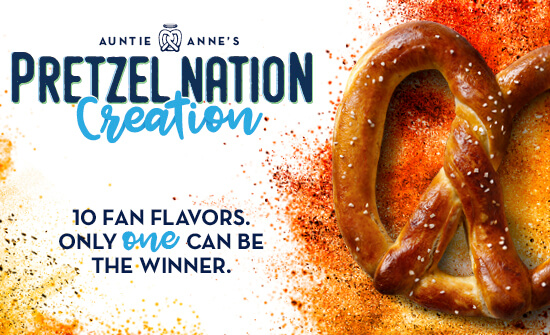 Pretzel lovers rejoice: Auntie Anne's®, the world's largest hand-rolled soft pretzel franchise, is unveiling a delectable new pretzel flavor. The best part? The public will decide which salty, sweet or spicy pretzel will be available at Auntie Anne's stores nationwide. July 21st through July 30th, fans can let their voices be heard by voting for the next Pretzel Nation Creation at www.pretzelnationcreation.com.
"Since Auntie Anne's opened in 1988, we've been raising the standard of snacking with our delicious hand-rolled pretzel options," said Carol Pasquariello, vice president of marketing for Auntie Anne's. "We couldn't be more excited to offer our pretzel connoisseurs a brand-new reason to love Auntie Anne's with a flavor chosen specifically by them."
An initial request for flavors on social media last month generated more 1,200 fan suggestions. The ten most popular flavors comprise the Pretzel Nation Creation finalists, a mouthwatering mix of sweet and savory.
For fans with a sweet-tooth:
· Apple Pie: Conjuring thoughts of holiday happiness, this tart is as American as the real thing.
· Chocolate Cherry: Fruity, fudgy goodness – what could be better?
· Maple Brown Sugar: Tastes like breakfast, but not so sticky.
· S'mores: Skip the bonfire and enjoy with each tasty, marshmallow-y bite.
· Pink Lemonade: A refreshing, tangy treat -- no summer day or straw required.
For those craving a little bit of zest on their taste buds:
· Sriracha: A savory pretzel that's oh-so-hot in the best possible way.
· Taco: Move over steak, chicken and fish, the pretzel taco is the new craze.
· Korean BBQ: Smoky bites so good, this pretzel tastes like it was marinated for hours and hours.
· Dill Pickle: Add a crunchy dill punch to your pretzel.
· Buffalo Wing: A zingy taste that could be enjoyed from Buffalo to San Diego and everywhere in between.
The new Pretzel Nation Creation flavor will join the likes of other Auntie Anne's delights, including Pepperoni, Cinnamon Sugar, Sweet Almond and more. Fans can vote as many times as they want (binge voting sessions are encouraged) and should keep an eye out for the new flavor available in stores for a limited time only later this year. Happy and tasty voting!
About Auntie Anne's®:
With more than 1,700 locations in 48 states and more than 25 countries, Auntie Anne's mixes, twists and bakes pretzels to golden brown perfection all day long in full view of guests. Auntie Anne's can be found in malls and outlet centers, as well as in non-traditional spaces including universities, airports, Walmarts, travel plazas, military bases, and food trucks. For more information, visit AuntieAnnes.com, or follow on Facebook, Twitter and Instagram.