Stay Connected
©2023 Auntie Anne's Franchisor SPV LLC
Summer is Served: Auntie Anne's Launches Strawberry Lemonade Frost Beverage
Just in time for warmer weather, the new limited-time menu item is a sweet and creamy twist on Auntie Anne's famous Frozen Lemonade
June 21, 2019
Lancaster, Pennsylvania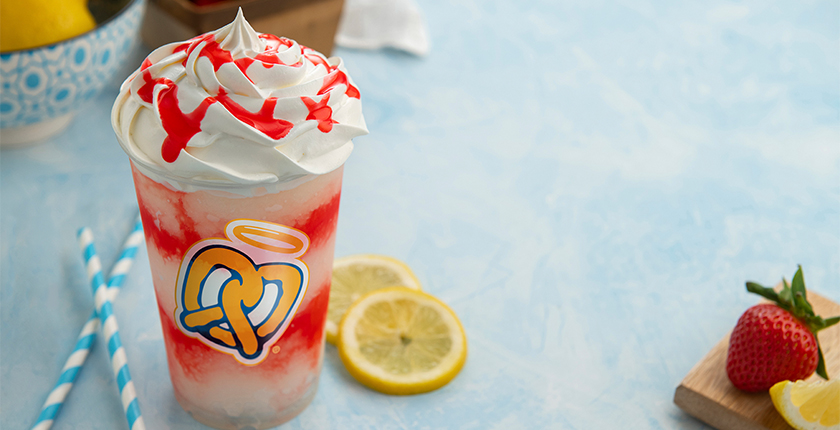 Auntie Anne's®, the world's largest hand-rolled soft pretzel franchise – known not only for its delicious pretzels, but original lemonade – is kicking off summer with Strawberry Lemonade Frost. Sure to be the season's hottest frosted beverage, this limited-time menu item is a flavorful play on Auntie Anne's famous Frozen Lemonade with a sweet, creamy twist.
Strawberry Lemonade Frost deliciously combines Frozen Lemonade and creamy vanilla, with a burst of strawberry flavor. Topped with whipped cream, it's the perfect refreshing summer treat for anyone to grab on-the-go or savor on the spot.
"At Auntie Anne's, we are all about delighting our fans with the most delicious snacks and drinks. And Strawberry Lemonade Frost, our latest beverage innovation, is Ripe for Sipping," said Marcel Nahm, Auntie Anne's Vice President of Marketing. "This drink pairs perfectly with summer, and fresh, hot-out-of-the-oven pretzel snacks. So don't miss out, it's sure to make you Sip n Smile!"
To celebrate the first days of summer, beginning on June 21, the Lemonade Frost product will be available to order for delivery* in a special, keep-cold cup. The keep-cold cup will be available on delivery orders only at participating locations and while supplies last.
Strawberry Lemonade Frost is available nationwide through September 1. For more information, visit AuntieAnnes.com, or follow on Facebook, Twitter and Instagram. To find an Auntie Anne's location near you, visit auntieannes.com/locations.
*Online orders only through Auntie Anne's delivery partners. Limited time offer, while supplies last. At participating locations only.
About Auntie Anne's®:
With more than 1,800 locations in 48 states and more than 25 countries, Auntie Anne's mixes, twists and bakes pretzels to golden brown perfection all day long in full view of guests. Auntie Anne's can be found in malls and outlet centers, as well as in non-traditional spaces including universities, airports, Walmarts, travel plazas, military bases, and food trucks. For more information, visit AuntieAnnes.com, or follow on Facebook,Twitter and Instagram.