Let the Stadium Come to You
Twist Up Gameday with a Snack Stadium
Enjoy 2 buckets filled with any of your bite-sized favorites, 6 dips and the iconic snack stadium packaging. Plus, get it delivered straight to your door with $0 delivery fee on Saturdays and Sundays through October.
$0 Delivery Fee available on qualifying orders of $12+ through http://order.auntieannes.com/ or the Auntie Anne's Rewards App at participating Auntie Anne's locations. Offer valid on Saturdays and Sundays from 9/2-10/29/2023. Convenience Fee for Delivery and Service Fee apply. Other fees and taxes may apply see checkout for details. Not valid with any other offer or reward, or third-party delivery. Void where prohibited.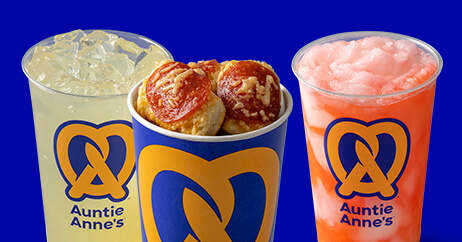 Sampling Saturdays are Here!
Get FREE samples of Auntie Anne's delicious pretzels and drinks every Saturday in August & September. Visit your local store to see what is being sampled. Valid at participating locations while supplies last.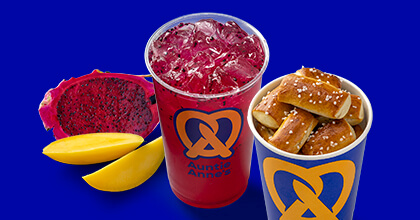 Dragonfruit (and Pretzel) Delivery!
Get any of Auntie Anne's vibrant frosts and lemonades delivered straight to your door this summer. And twist it up with hot, golden brown pretzels too.
Get That Dough
Hot, handmade, and buttery pretzels made fresh for you! Already craving? You can order on the app or pick up in store to get that dough.
Get That Dough