Auntie Anne's Heavenly Scent Now Available Sans Pretzel
Beloved pretzel franchise introduces "House of A" Essential Pretzel Oils
March 30, 2018
Lancaster, Pennsylvania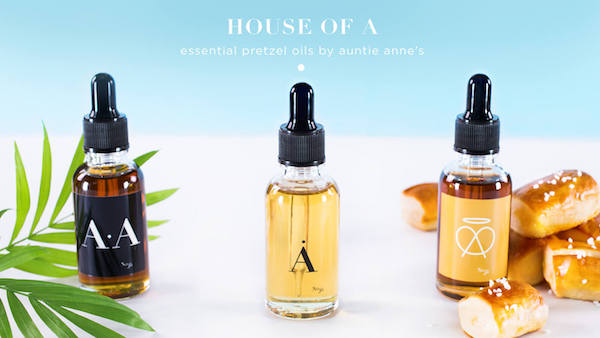 Following years of painstaking research, countless taste and scent tests and a sourcing trip around the globe, Auntie Anne's®, the world's largest hand-rolled soft pretzel franchise, is bottling up their famous scent for a line of essential oils. This is the first time the brand has bottled its scent, which was previously only available at Auntie Anne's locations in malls, airports, and countless other venues around the world. Auntie Anne's "House of A" Heavenly Scent Essential Pretzel Oils will be available in three unique scents: Freshly Baked, Salty, and Cinnamon Twist.
Freshly Baked is reminiscent of the Original Pretzel and the buttery scent that everyone associates with Auntie Anne's. This product has strong nostalgic qualities and users should be ready for a walk down memory lane.
Salty features calming properties and is recommended for those seeking comfort and Zen.
Cinnamon Twist uses a proprietary blend of cinnamon and sugar. This classic sweet pretzel scent will bring a smile to every face. Recommended use is for those seeking happiness, laughter, and indulgence.
"At Auntie Anne's, we're proud that our scent elicits happiness in pretzel lovers everywhere," said Heather Neary, president of Auntie Anne's. "We always want to give our fans what they want, and given how trendy essential oils are right now, we thought there was no better way to satisfy the pretzel-loving public than with products modeled after our signature offerings."
"House of A" Heavenly Scent Essential Pretzel Oils will be available at HouseOfA.co. All Heavenly Scent Essential Pretzel Oils are 100% pure therapeutic grade: no fillers, synthetics, additives, bases or carriers added. Additional benefits include an improved palate, a catatonic state of bliss, relaxation and in rare cases, even increased spousal attraction.
About Auntie Anne's®:
With more than 1,700 locations in 48 states and more than 25 countries, Auntie Anne's mixes, twists and bakes pretzels to golden brown perfection all day long in full view of guests. Auntie Anne's can be found in malls and outlet centers, as well as in non-traditional spaces including universities, airports, Walmarts, travel plazas, military bases, and food trucks. For more information, visit AuntieAnnes.com, or follow on Facebook, Twitter and Instagram.